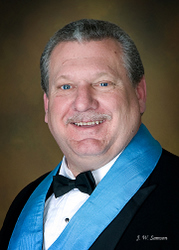 Brethren,
Our new Grand Master, Jay Smith, has asked that, we, as masons become master builders so that we can be well and duly prepared to work through the challenges our fraternity faces today to insure that we continue to grow, change, and flourish for future generations.
Over the next 2 years he will continue to expand on the successful programs of past Grand Masters such as the one day class and the Help for our Heroes programs while creating the tools to better prepare us to communicate effectively, not only to our brothers, but also to non- masons.
One of the new tools our Grand Master as established is the first of many online educational lessons to teach new masons and existing members the who, what, when, where, and why of Freemasonry.
The Grand Master has also proposed that the Grand Lodge fees and Grand Lodge dues are excused for all full time college students age 18 to 23 years for the next 2 years who wish to join the Fraternity.
At our March stated meeting we will have the honor of having Noble P. Johnson, D.D.G.M. speak about more of the Grand Masters programs so I encourage all members to be in attendance that night.
Remember, the future belongs to those who can meet and work through the challenges to come.  We have been given the tools to change the lives of others. We just need to use them.
Sincerely and Fraternally,
Dennis D. O'Connor, WM
UPCOMING EVENTS
March 18th- DeMolay sponsoring body recantation meeting, 4pm at the Lodge room. All lodge members and family invited.
March 25th- If you have never seen Valley of Harrisburg's production of "The Story of the Crucifixion" you shouldn't miss it this year on Sunday, March 25th, at 3pm at the AASR Cathedral, 2701 N. 3rd St. in Harrisburg. Directed by our own Past Master Tom Labagh, it includes a cast of over 80 characters. Tickets are free but must be requested in advance by sending a self-addressed stamped envelope to Valley of Harrisburg, P.O. Box 2423, Harrisburg, PA 17105. Indicate the number of tickets you need and include your name and phone number.
March 31st- Sectional meeting of the School of Instruction for Region 2 which includes 6 Masonic Districts will be held at the Harrisburg Consistory, 2701 N. 3rd St. in Harrisburg, PA. Registration begins at 7:30 am. Our Lodge will be exemplifying the E.A. Degree at 9:30 am. The School will end before noon.
April 17th- Become a 32nd degree Scottish Rite Mason by starting your journey in the Valley of Lancaster Lodge of Perfection at the spring reunion on Tuesday, April 17th, 2012 at the Masonic Center of Lancaster County, 213 W. Chestnut St. Lancaster . The Honored guest will be the Right Worshipful Grand Master on PA, IlLL. Jay W. Smith, 33rd Degree P.T.P.M.. For more information contact Walter Foltz, PM, or Dennis O'Connor,WM.
May 19th- the 23rd Annual Benefit Pancake Breakfast. Yes, its that time of year again. One of our Lodges biggest fundraiser charity outreach events will soon be here. Please be sure to send in ticket money as soon as possible and don't forget to sign up. It is always a fun fraternal experience you shouldn't miss. There will be a blood drive from 7:am to 11:am and the model Rail Road Station will be open from 9:00am to 11:30am. For more information contact Terry Louer.
June 2nd- Crusin the Village, Custom Car, Truck, and Motorcycle Show from 10am to 2:00pm. First 100 vehicles to enter will get a dash plaque. Come on out and enjoy the day at our first car show in the parking lot in front of the Lodge. Please contact Barry Rissmiller for more information.  Registration forms will be mailed out in April. $10.00 before and $15.00 day of event per car. Plenty of music, food and more!
June 25th through the 29th- Patriot Camp for Kids. Teaching the children of our community about our great nation and the sacrifices that our founding fathers made for freedom and liberty. The camp runs from 9:30am to 12:00pm Monday through Friday at the Patton Campus in Elizabethtown with a visit from our founding fathers on the last day. For grades 1st to 6th grade. 10 children per grade. Each child will get a Patriot Camp T-Shirt. COST 10.00 for more information call Dennis O'Connor.
Sponsors: Would you like to sponsor our events? Call 367-0361, leave a message, and someone will get back to you.
THANK YOU!!
We would like to thank our first sponsors for their support. C and M Auto Sales, 345 W. Main St. in Mount Joy, Pa. and Gruber Upholstery, 505 N. Market St. in Elizabethtown.
We also would like to thank the Masonic Village at Elizabethtown for the use of their beautiful campus for our events throughout the year.
Never been to a stated meeting?
Our stated meeting is held on the 3rd Monday of every month at 7:00pm except for July and August. If you are a Master Mason of our Lodge who has yet to come to a meeting please come out and enjoy an evening of fellowship with your Lodge brothers.