Dr. Abraham C. Treichler, for whom our Lodge is named, left an indelible mark on the Elizabethtown community. For years he, and his children, served the town and surrouding farms as physicians, assisting the sick when called upon. Becuase of his prominence in the area and his involvemennt in local happenings (including being a Freemason), the Lodge was named in his honor. Now, 100 years later, we continue to uncover interesting facts about the man that Dr. Treichler was.
Recently, while reviewing the records of Corinthian Royal Arch Chapter No. 224, an appendant body of Freemasonry that also meets in Elizabethtown, the original "Mark" of Dr. Treichler was found in the Book of Marks. I'm sure some are wondering just what a Mark is. From the website of the Grand Holy Royal Arch Chapter of Pennsyvlania:
"It was customary for our operative ancestors to cut their "mark" or signature into each piece of stone they hewed for the building, so that their work might be identified. These marks may be seen today on the stones of many the old cathedrals of Europe. From this ancient custom grew the present day registration and use of "trademarks." We see them countless times each day, identifying the products of our modern industrial concerns, but few know the origin of this custom.
In the Mark Master Mason degree, the candidate selects his own personal mark which is recorded in the Book of Marks, to be his own Masonic signature for all time. In this degree he learns the significance and symbolic meaning of the Keystone, the Chisel and the Mallet. In it, he receives his symbolic wage for good work, true work, square work."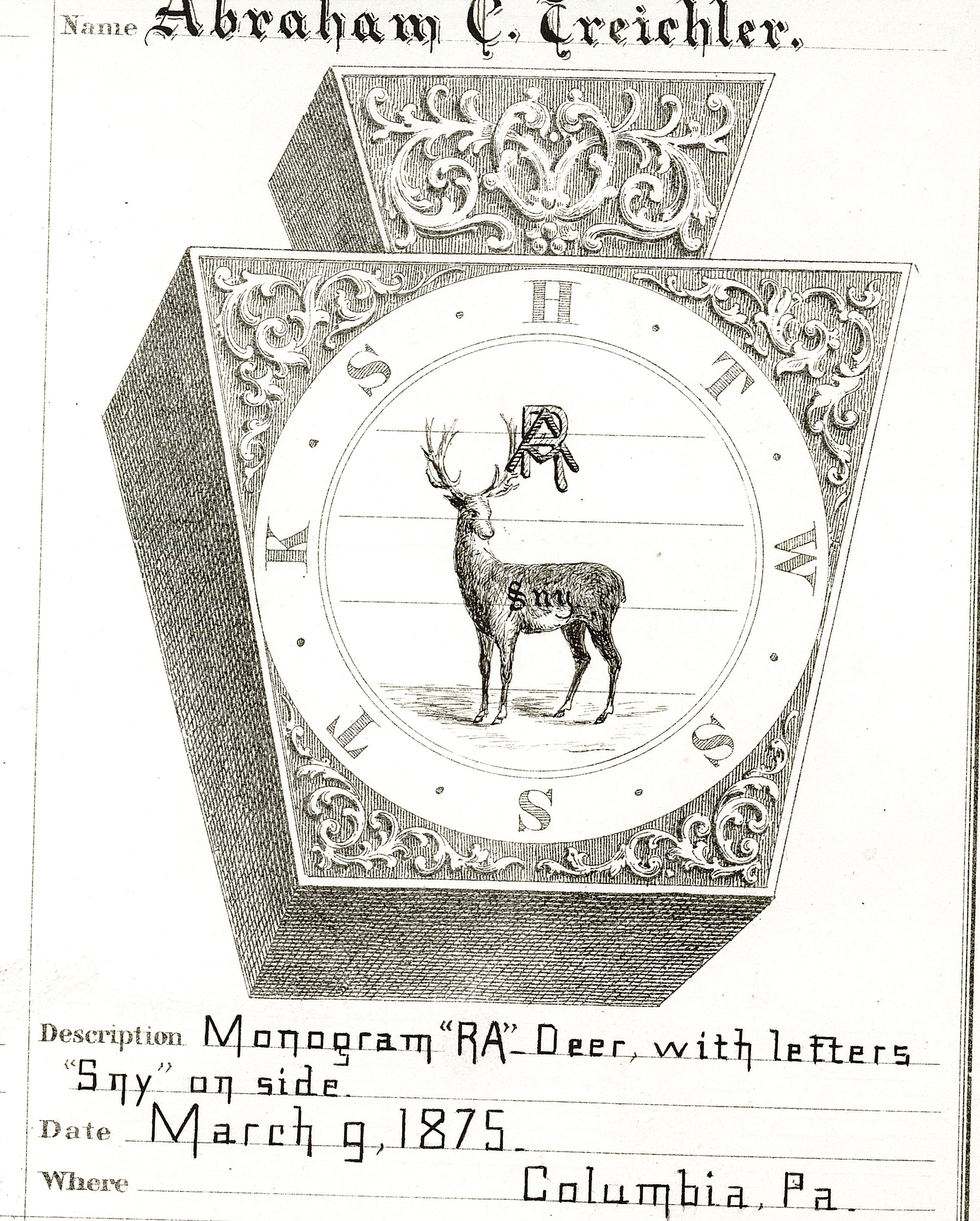 The Mark shown here is one that was personally designed by Abraham as his "signature" as a Mark Master Mason and is dated March 9, 1875. It contains a deer with several monogramed letters. We're unsure of the symbolism of the Mark, but it provides an interesting look into the history of our Lodge and its namesake.